This is the darling Chouquette - she is 10 years old and a Fox terrier cross.  She came to us from a French Rescue - her owner kept her penned in a backyard her whole life and sometimes was taken out to be used for hunting - she was not loved or had any positive human contact.  The Rescue felt that she would never get a chance in France and wondered if we could help.  Well, her story really affected us and we decided to help and give this girl a second chance.
Chouquette is a very timid girl - but with help and patience she has started to come out of her shell - she no longer drops to the ground when a new person approaches, she is willing to walk towards you - getting an ear rub as a treat.  She is still wary of new people and experiences and will run and hide - this will take time and she cannot live in a busy household.  She is a work in progress and will need a home that is calm and patient and will continue her introduction into the reality of being a pet.  She is in kennels but has been clean - and we feel will be house trained quickly.  She has been used for hunting and thus she cannot live with small furries.  She is an escape artist and will need a secure home and garden - and very careful exit/door management.  Also she may be a dog that cannot be offlead - she has a very developed hunting instinct and the urge to follow her nose is a strong one!
She has been fine with other dogs - and could benefit from a calmer dog to show her the ropes.  She wants affection and has become very brave.  But the new home will need to understand her past - and allow her to progress at her pace - she will return your love tenfold - we know this little girl will blossom in the right home.  She is in Norfolk.
No cats or small furries - children 10+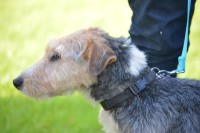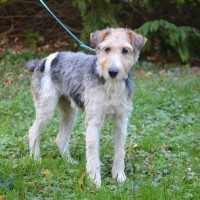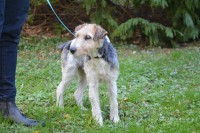 by