Meet the amazing Lolo!  A beautiful fox terrier boy and an honoured member of the Pointy Ears Club!
Like so many of our dogs, we got a message about a boy at risk in a perrera in Southern Spain – so through the usual wonderful volunteers he came into our care. He went into kennels with another of our rescued dogs,
Kika
.  They were firm friends – which just shows he can live on his own or with another dog (with proper introductions).  Lolo is 5 years old, neutered and in foster in Nottinghamshire.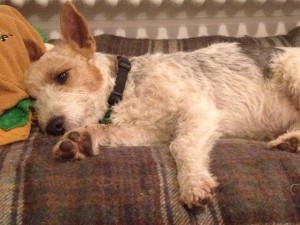 Lolo is a super little dog. He enjoys being outside, always on the go, sniffing out the local wildlife and patrolling the fences and keeping the neighbourhood safe. Indoors he's the first to relax on his bed or (better, in his opinion) on a chair or sofa. His foster has often stood up from desk and turned round to find Lolo has taken up his rightful place on her chair. Lolo loves a cuddle, on his own terms, he'll snuggle up in the sofa and watch a film with you but is just as happy working on a chew in his bed.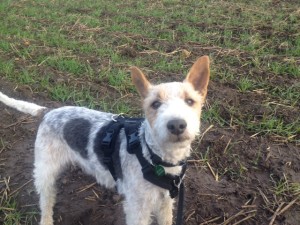 With ears like these, there's no sneaking past Lolo, he wants to be part of whatever is going on in the home. Whenever you are, there's Lolo, right behind you or sitting on your foot. Just don't leave the bathroom door ajar…
Lolo loves humans and is so friendly with everyone he meets, he even showed no fear when meeting the vet. Lolo is getting used to seeing other dogs out walking. He's picked up the training really quickly, and now walks really well on the lead provided you follow our instructions.  He is a dog that needs time and patience. However, his recall is typical for a terrier (i.e. non-existent!) and he is very prey driven so we expect life for Lolo will be enjoyed on a lead!  
See a video of Lolo on our facebook page
If you are interested in a ticket to LoloLand – please complete our Homing Questionnaire below.
Download & complete the TerrierSOSQuestionnaire2017
Remember: Children: 10+, no cats or small furries.  Dogs for adoption will be neutered, passported, vaccinated, where appropriate.