Yoko is 8 years old, was found wandering in France and picked up by the pound. They did contact his elderly owner - who said he had given him to someone else but could only remember the man's first name....and the original owner did not want him back. So Yoko stayed in kennels, he has been there since May...he was found groomed with a red harness on - he is very scared in kennels and we just could not leave him
there as he was becoming at risk.
A local rescue asked us if we could take him on as they had nowhere for him to go. He is therefore now out of prison, and with an angel called Marie-Ange, in a 4-star doggy pension in the South West of France in the rolling countryside, ready to travel to the UK.
We had been told that he didn't like other dogs. This was at the pound. In fact at the pension, he is desperate to go and see them, and gets overexcited. We think he has been undersocialised, and could potentially live with other dogs. This means he needs to go to a household with airedale experience, ready to put the work in to make him a wonderful pet. Marie-Ange has confirmed he is great with people. We are looking for a compassionate family that will give this boy a chance, he deserves it. If you think you are the one, please download the application form TerrierSOSQuestionnaireMay2015
No cats or small furries - could live with other dogs with proper management - children: 10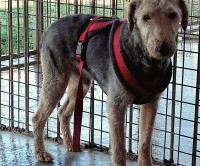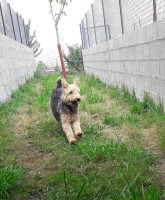 Yoko at the doggy pension.




by