As many of you know we are at our maximum capacity for dogs that we can manage at present. So it has been so difficult for us - as we love dogs and not being able to help makes our volunteers suffer - we never forget the dogs and their faces. But we are human and as it is, our lives are consumed by rescue, so sometimes we make the hardest choices. But ... there are times that we mean to say 'No' and we say 'Yes' instead.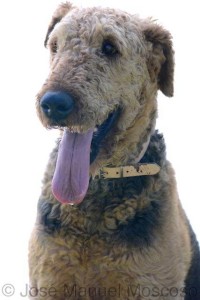 This is one such time. We were told about an Airedale
girl, 11 years old, a pet, but the family were moving overseas and they could not take the dog, they did not know what to do and they were running out of options and time. The dog was going to be brought to the perrera.  A horrible place for any dog, and a place no dog should experience. So we said Yes when we meant No.
A wonderful volunteer picked up the dog for Terrier SOS - to move her to our residential kennels (they are well maintained, well staffed and the dogs are cared for). Well, what she told me just broke our hearts. This is Joanna and she is an Airedale - one of our volunteers refers to her as the Large Lass. She was bought as a puppy for a family. She was the love of their life, they both worked in Madrid and were doing well. The family was doing well, but sadly one of the partners passed away unexpectedly, the other continued working and caring for Joanna, but then he lost his job. Money became an issue and he was forced to return to his hometown. No money, no job. His only offer came from a job overseas and he felt he had no choice, and decided to let Joanna be rehomed. But not many options for an old airedale, and not much interest and he was running out of time. He reached out, and through the many connections/shares - she ended up in our inbox. She is beautiful, well groomed, she came with toys, blanket, bed and food. She has been loved and has been a family member - and our volunteer had a very emotional pick up - another one - and we have promised him we will find her a wonderful retirement home. Joanna is dog and people friendly. She will need a family that will understand and help her adjust - we dont want her to be in kennels so we are looking for a foster with view to adopt - we would like to move her soon so would look at foster as well. Download & complete the
TerrierSOSQuestionnaire2017
 to rehome our lovely senior lady Joanna.
Cats: not known
Other dogs: OK
Children 10+




by