This is a group created to help Terriers in need in Europe. We want to highlight and help Terriers that are in Rescues or Pounds/Perreras. Our aim is to create a network of volunteers across Europe to help get these dogs forever homes!
Terrier SOS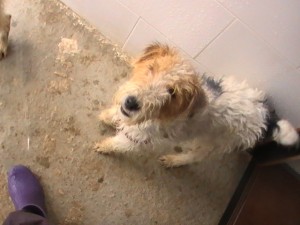 Originally we began with the intention of highlighting dogs in need in Europe and through a network of volunteers get these dogs safe (either in rescue or permanent homes). But it soon became apparent that some dogs were in desperate situations and unless we intervened we would lose them. So in some cases we also bring dogs to the UK to find loving homes here.
All our dogs will be neutered, vaccinated, micro-chipped and have a pet passport. We love terriers – and our love of these dogs does not stop at borders.
Spain has one of the largest stray populations of dogs & cats in Europe. And is the focus of our work – we do however help terriers in other European countries – but most of our dogs will be coming from Spain. Some terriers come from horrific situations of abuse and neglect, they are abandoned and left to their own fate.
Neutering is not common in Spain for dog or cats and neither is vaccinations. Many dogs and cats are therefore left exposed to debilitating diseases which spread rampantly through the stray population. Huge quantities of dogs and cats are left to suffer and die alone, scared in the Spanish countryside. Often mum's with pups are the worst to suffer.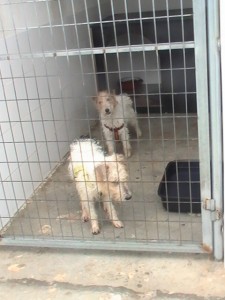 You may think that this is a Spanish problem – but it is not. It is estimated that in some shelters in Southern Spain half the dogs that are abandoned – are abandoned by British families returning to the UK. We have even helped dogs that were brought to Spain by their British families and left there.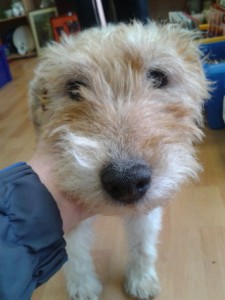 Many of the terriers were pets – and families got bored, didn't care, or just left without them. These dogs find life in kennels stressful, some give up, others become ill and many die as road traffic accidents or worse.
We believe in animal welfare and we believe that every life deserves respect and to be treated with love. Most of our energies are focused on the extreme case dogs, dogs with deadlines, dogs that have been overlooked or have very little chance of finding a loving and caring home. We also help before they are left in kennels so long, they become institutionalised.
In addition to this we collect supplies, medication, food, and bedding and try and support the shelters as much as we can. Much of this is simply to publicises and show recognition for all the wonderful work that they are doing.
We also aim to create a network of volunteers that can help these dogs in need and help us get them out. If you would like to be part of our group – you can join us on Facebook or we can put you on our email mailing list for updates. Please feel free to contact us.
Why Terrier SOS was created
We are often asked why we help 'foreign' dogs. The truth is we help all dogs – we work with people and rescues in the UK – and we work with dogs in Europe. Our compassion and care does not stop at a border – what we have seen cannot be unseen – what we know keeps us up at night – the truth is we help as many as we can – and sometimes the numbers seem to be so small in the face of so much suffering.
I have volunteered and supported several rescues in the UK – including Terrier Breed rescues. One day via the internet – one breed rescue was contacted about a desperate fox terrier – he had days to live. He was in one of Spain's many "Killing Stations' – through social media – the word went out. The breed rescue sent me a
copy of the email – in case I knew someone.
The image that faced me horrified me – a breed i love was in desperate need and was being kept in horrific conditions – and he had days. I went onto various sites and pleaded that there must be someone that can help – time ticked on – I emailed asking people to help – and time ticked on – suddenly he had two days left – and I realised that if he was going to be saved, I was that person that had to step forward because I could not live with myself if I did not try.
What is a Killing Station? – a killing station is a pound/perrera that is either run by a private person who offers its services to the cities and villages or by a business, often the companies who remove the rubbish/trash also manage the perreras.
Some are actually run by decent people – they act as a pound and try to rescue the dogs – but the majority are not.
The perrera is paid to take the dogs and keep the dogs for whatever are the required days (varies depending on region) – to make a profit – they keep their 'costs' down. 'Costs' are food, water, and any humane form of euthanasia. Many Killing Stations are not known or public – and many dogs disappear – no one knows what happens to
them or where they end up.
Many Killing Stations will take in from the council 150 -200 Euros per dog – and if you want to remove a dog from a Killing Station – they will charge an amount as well. We have paid 45 to 90 Euros. The perreras are rife with disease, they are filthy, the dogs are over crowded, and in many the corpses are left for days with the living dogs. Puppies will rarely survive and the adult dogs may survive depending on the condition they were in when they arrived – we have taken several dogs from the perreras – Fox, Waldo, Diamond, Milu, Romeo, Foxy… we have lost Fox 5 weeks after we pulled him, but we were able to help the remaining dogs – and they are safe and will never suffer such a horrible fate again.
Perreras/Killing stations are big business for the owners; receiving huge money per caught dog, keeping the dog on the base of "bread and water", and then destroying it the cheapest way possible. And you have to know that many killing stations are neither legal nor even known to the public.
The dogs are 'euthanised' as cheaply as possible – they die in extreme pain and horror – gassed, thrown live into a crematorium, injected with part of a lethal dose – so they writhe in pain as their bodies shut down…
Many perreras are secretive and will not work with volunteers – many Spaniards are horrified and are trying to change things – there are two websites – one is a blog that is dedicated to highlighting these barbaric practices and although in Spanish the images speak for themselves – but please be warned IT IS VERY DISTURBING AND
UPSETTING.
http://www.animalhelp.es/perrerasmunicipalesdeespana.htm
http://perrerasdenunciadas.blogspot.es
We saw this and we knew what would become of the dogs if we did not help, we could not turn our backs – and so we work towards a better world for these dogs and for all dogs. Sadly we can only help a few at a time – but we are hoping that if more people see and understand we can be part of a force for change.
So please, do not be blinkered, we live in an international community – and together we can change things – we will continue to help one dog at a time. Please support our work – we are always short of funds and fosters – here and in Spain!