A lovely letter from Douglas's family, which they have given us permission to share:
When Douglas arrived on our doorstep, apart from how thin he was, the saddest thing about him was his eyes. Yes they were big and brown but there wasn't any life in them – no sparkle.
Now they are  a deep chocolate brown- so deep that you feel you could dive into them, like diving into a sparkling brown pool. So alive so expressive so full of happiness.
Outwardly there has been other changes he now has a muscular sturdy body that is a testament to how much he enjoys his food.
His coat has grown to give him the classic fox terrier shape, he is our perfect "square" terrier.
His ears are to die for- like two peach coloured triangles that are sometimes both down, both up or one up and one down that bounce with the rhythm of his legs when he runs.
Inwardly his personality took a little while to break free from his past. He is now happy, playful, mischievous, stubborn, loving and giving but above all full  of energy and life.
Can dogs talk of course they can; a look here, a different bark there. A noise that says tickle my tummy,r it's time to play ball or can I have my bedtime biscuit?
In truth he is now without doubt the perfect dog. We could go on but a few words about what Douglas has done for us. He gives us joy, happiness and contentment he is our little boy, our Prince, our munchkin.
Walking out with him makes us so proud he is loved by all who see him but he's definitely a ladies man a proper little charmer.
When he gets on our knee or lies by our feet who can describe that feeling?
Whatever we have given to him he has given us back a thousand times over, our little boy our pride and joy.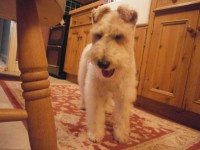 Nancy's Adoption Story
We had been looking for a Welshie or a WFT for about a year as a brother or sister for Hector our Welshie. I belonged to local rescue centres but there was a long list of people ahead of us and we were told 'people in the UK rarely give up these breeds'. I was looking on WELTAF one day and saw a post to raise some money for Terrier SOS, after a quick search I called Diana and we were on the phone chatting for about an hour just talking about our love of dogs!
We originally thought we should get a young dog. We fell in love with lovely Samos, but his foster family fell in love and adopted him. Then up popped young Maggie and we arranged a home check. Diana came for our home check and she bought a very little Nancy and big man Bosso with her, we instantly fell in love with both of them. Once we all sat down and started chatting we wondered where Nancy had gone, Saskia went upstairs to find her on her bed with her teddy beaming up at her with that cheeky 'you found me!' smile.
We all had a hard think after Diana left and we realised Hector would not like to have a young puppy in the house as Maggie liked to play bitey face, our Hectors pet hate. We decided it would not be fair on Hector if we got Bosso, as he was not keen on Bosso liking all of his favourite toys! The answer was obvious. Hector got on so well with Nancy, he was very gentle with her and the fact that she was about 6 ½ did not matter to us. We were smitten!
Our best decision ever, We got Nancy on the 14th July. She was shy, quiet and underweight. Nancy was beaten when she was a puppy and could not walk far so we decided we could pick her up when she was tired. We had to hand feed her at first as she was unsure, and would not drink or pee. We were told to leave plastic bowls in the garden and slowly Nancy learnt to drink and pee, we are sure Nancy was beaten for peeing as a puppy. She was also terrified of big men. It took a month till we heard Nancy bark in the garden, and since then she has never looked back!! We have had fantastic support from Diana and the Terrier SOS ladies!
Since then I was asked to do a home check for Roan where I met Debbie, Danny and her lovely children Natasha and Sam and WFT Lulu. It has been a pleasure to be involved in Terrier SOS and very rewarding seeing handsome Roan living his new life enjoying being loved and having freedom. We always look forward to seeing them!!
In November we agreed to foster King Arthur, boy was he the opposite of Nancy. He was bouncier than tigger and only ever sat down if I did. Arthur was very nervous on walks but then grew in confidence as he settled into family life. We had a lot of support and advise from Diana especially when he was not well and had frequent visits to the v.e.t.s . It is very rewarding to think that when Artie came to us he was almost bald, had a skin infection, was very underweight and generally in very bad condition and left us as a healthy boy with a lovely fluffy full coat of fur. Arthur learnt the joy of playing and love, he loved to have cuddles! Artie is well now and is enjoying life with his new family!
Terrier SOS is a fantastic rescue and community of like minded people who just love to help and care for the well being of dogs. Their fundraising auctions and walks are great fun, it has been a joy to meet the great people and dogs who make up Terrier SOS from all over the UK. Not forgetting all our lovely friends we have made from abroad!
Nancy has grown into a confident happy girl full of life. She cannot wait to go out for her walks and explore the world she has a real zest for life. Nancy is a real girl she loves shopping, and has recently discovered the thrill of squirrel chasing. Nancy is now a true terrier! Even better..A Terrier SOS Terrier !!!