We work closely with volunteers (thank you, volunteers!) at several perreras in Spain.  They always let us know of terriers in need – and help organise the start of their journey to the UK. Here is the story of Queen Victoria: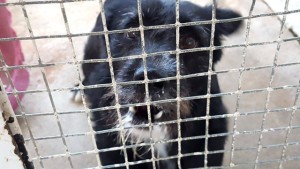 Well – we were told about this poor girl – she was abandoned and began living in a ravine.  She has lived in that ravine for years – the people of the nearby village were never able to catch her.  They said she lived there for 4/5 years – eventually they did manage to catch her – she had many litters over the years – she is very shy, she has had little contact with people -and her faith and trust in people was shaken – we have no idea what horrors she has seen and we know she is a smart dog for having survived so long out there.
But she is a black dog (remember our Black Dog Friday campaign?), she is shy of people, and she was just hiding behind her bed…this is not the most adoptable dog.  The perrera has a fixed number of kennels -and they basically allow the dogs to live as long as they have a kennel for them. But kennels were filling, and Victoria had been there the longest.  So she was next
…
The volunteer was desperate and no one showed any interest in this dog – we are a small rescue and we have so few people willing to work with dogs that need a bit more TLC.  But they asked if we could give her a chance, they told us how they would leave treats at the front of the kennel, and when they left she would take them…but after visiting several times – she started waiting for them at the front of the kennel…
This story saddened us, it made our heart sink, surely we should try?  So with the Help of the volunteers – we decided to save this girl.  She will start her rehabilitation in Spain and we will keep the group updated, but we need your support, and we need you to help us share her story, because of her past and the fact she is an older black dog – she will not be the most popular – but all dogs do matter and we know that this girl will blossom and show us the Queen she is…
You can watch her youtube video
here
.