Fostering
TerrierSOSFosterCarerApplicationForm
None of our dogs are kennelled – they are all fostered and assessed until we can find the right home for them. But we are finding that the number of dogs needing our help is increasing – and we are a very small band of volunteers and cannot foster all of the dogs in need.  We need more volunteers.
The fosters for Terrier SOS are our heroes, they are the ones that the dog will first learn to trust, and will for the first time in many of their lives learn to relax and learn to be a pet again.
Can you provide a safe and secure environment for a rescue dog?  Does the thought of helping an animal find a loving home fill you with a warm fuzzy feeling?  Does the thought of pee pee on your carpets, or a chewed shoe, or discovering your fencing is not as secure as you thought it would be …not bother you?  Then you could be the person for us…
Fosters are vital to rescue, and they have the toughest job, but it is the compassion and love that helps these dogs live again.
We ask you to complete a TerrierSOSFosterCarerApplicationForm and then will contact you and  after a successful application (including Home check) – we would discuss what dog would be most suitable.
Your role would involve:
Arrange with Terrier SOS how the dog will come to you (sometimes dropped off through pet transport, sometimes you will pick them up from an agreed location)
Treat the dog as your own pet
Take the dog to the Vet if required, include giving any medication or specific dietary requirements
Take lots of videos and photos of the foster dog – as this helps market the dog on our sites – and also our dogs are adorable!
Evaluate and assess the dog and their needs – this will be vital is helping match them to their perfect home – including highlighting any anxieties or behavioral problems that will need to be addressed
 Communicate regularly with Terrier SOS regarding any changes to animal health, behavioral, etc
You may need to go on blind dates with any prospective home, you will assess the suitability of the family based on their interaction with the dog and you will liaise with us if you have any concerns
Foster homes must have:
An  experienced dog owner – with an emphasis on terrier experience
Willingness and the compassion to foster dogs and understand that rescue dogs have special needs – and will need patience, space, and understanding
Have an awareness of basic dog training (only positive based training)
Have only children over the age of 10 – either as your own children or as regular visitors
Have a household with no small furries – many of our dogs have had to fend for themselves – so they may not view the small furries as equals
Good communication, and realize that you represent rescue – and you will act in a professional manner and always respect the confidentiality of adoptants and Terrier SOS at all times
This is a voluntary position and although we endeavor to place dogs quickly – we average 4 to 6 weeks – some dogs may require longer.  We try and give our foster homes a break in between placements – and will of course help if you are going on holiday (although dogs love holidays too!).
We reimburse food, vet care, dog accessories – we will discuss prior to any placement.
So would you like to be a foster?  Would you like to change the life of a dog?  Then please download the application form – and return via email…..
DOWNLOAD THE FORM TerrierSOSFosterCarerApplicationForm
Any questions, please do not hesitate to get in touch – we will be pleased to hear from you.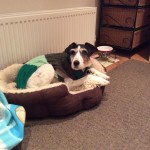 TESTIMONIALS FROM FOSTER FAMILIES:
Anna "The first foster dog came to us on Christmas Eve after 18 months spent in a refuge.  Seeing him becoming a pet again was the best present we could receive. 
Fostering is a very rewarding experience even though on the face of it, you don't get anything.  You welcome the unknown into your own home, it does take a lot out of you – the dynamics between your own dog and the foster dog, the dog being up for adoption – and you can take the setbacks as your own failure.
You take it as a project, getting the dog ready for adoption, helping to narrow down the requirements of a potential adoptive family, such 'road tests' can't be done in a shelter.
People first thought we were trying to get a second dog, but no, we wanted to help a dog.  When you meet the right adopters and see the dog go, the waggy tail melts your heart."
Marie: "You will be heartbroken but in a good way, so proud that you have helped a dog achieve something that they would never have dreamed of… a loving home and safety forever. It's wonderful."
Sally: "I can honestly say it is one of the most rewarding things my husband and I have done. You are supported completely by terriersos and the new friends you make doing it are endless. Then of course the sense of pride you get from helping a doggie gain confidence and eventually be re homed is immense. It's one of the best things my hubby and I have ever done and Pootle our resident pooch loves making new doggie friends too!"