Terrier SOS is at its capacity in terms of dogs it can manage – and we are always dreading opening our inbox because the need seems so great….
This is the beautiful Kika.  Kika was one of the many dogs abandoned in Spain – she ended up in the same perrera as
Lolo
.  Time was not on her side – she is a larger (15 kilo) cross – and she ran out of time – they needed to clear kennels and she would be the next to go.  I had been asked if we could help her several times – and we said we were unable – but I got a final message asking if I could just try and squeeze her in – if we said No – Kika would lose her life – it is really that simple.  So although we really just don't know how we find the room – we did.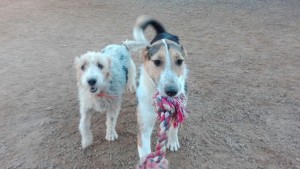 We have never regretted saving a dog – and they deserve a loving family and a chance to get to shine.  Could you be Kika's Guardian Angel?  Kika is only 18 months old – she is a female Terrier cross – she is a bit larger that a fox terrier – she is a very loving girl and she needs a family that has the time and commitment to her.  She has never been a pet and will need some help to make that transition – she has been showing anxiety about being left and we will be working with a behaviourist.  The prospective family will continue the work we are putting in.  She will need a family that will be around for her – and due to her excitability she cannot live with any young children.
She is in Norfolk – she is speyed, vaccinated, passported and health checked.  She cannot live with young children or small furries.
Save Kika – Download & complete the TerrierSOSQuestionnaire2017
Remember: Children: 10+, no cats or small furries.  Dogs for adoption will be neutered, passported, vaccinated, where appropriate.