Drum-roll please, for His Terrierness, Prince George of TerrierSOS! Found as a stray in Spain, Prince George is a young terrier cross that is in need of a new home. He is currently in UK foster, with his kennel-mate 
Princess Georgina
.  He is small (approx 5 kilos) and really lovely - but he is wary of new people.  He has the 'ones he trusts' - the rest he would prefer at a one metre radius to begin with.  No aggression, but he drops to the ground or flattens in a submissive fearful state upon first introduction.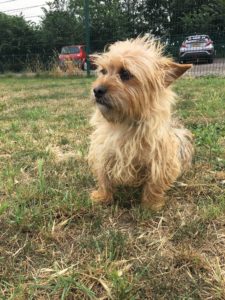 He's still quite insecure. He has bonded with the kennel owner and seeks her out for reassurance. So Prince George will need a calmer home - we anticipate he won't be great with loud children as they can frighten him very quickly.  He is a lovely little chap and getting better every day. Do you have a spare throne in your home for our little prince? Download & complete the
TerrierSOSQuestionnaire2017
  He is passported, vaccinated and neutered.
Remember: Children: 10+, no cats or small furries. Dogs for adoption will be neutered, passported, vaccinated.




by