Please say Hello to our new Terrier SOS family member! Nico was handed in to the perrera by his 'owner' – they gave the right to sacrifice (meaning the shelter is allowed to put down the dog) – so another dog that had no time and we couldn't risk any delay – so we asked wonderful volunteers for help and they stepped right in.
Nico has been moved to kennels, his fur was in such a matted state that he had to be sedated and shaved by a vet.  We suspect he has been chained his whole life in a yard – not much human or dog interaction – he was very scared and very timid.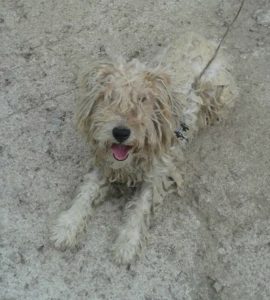 He will need a slow and patient introduction into being a pet, he's only 4 years old and has many years ahead of him. He is loving and wants to live and love – so if you feel you are right for him, please do download a form!
Download & complete the TerrierSOSQuestionnaire2017 to rehome Nico. We look forward to hearing from  you.
Cats & small furries: no
Other dogs in the home: no
Children: 10+