This is a 2 year old boy we took under our wing earlier in the summer. This little boy was put into the perrera by his owner, the owner gave the right to sacrifice (this means that the perrera can put him to sleep immediately). He had no time.  So we made room, and we would like to introduce you to Rex (Rexus Maximus, T Rex, Rex Harrison) – we feel he deserves to live like a King and we will be bringing him to the UK in the Autumn.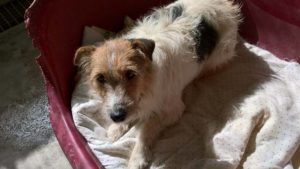 At present, we are still finding out more about this handsome chap.  We know he's very sweet and dog-friendly, but no idea about cats or children at this point.  As we discover more, we will update you.
Like Sir Galahad, he has tested positive for Leishmania and has received treatment to which he is responding well. We are told he is a sweet boy, kind and gentle. He is only 2 years old. He wants to find his family. 
Download & complete the TerrierSOSQuestionnaire2017 to rehome Rex. We look forward to hearing from  you.
Cats & small furries: no
Other dogs in the home: OK
Children: 10+