Please meet Hero Hal Jordan – another one of our Terrier SOS Super Heroes….we got an urgent plea asking if we could help this poor dog – straying on the streets in poor condition, limping – who could turn him away?
He is a brave little dog and we felt we had to help. So we said we would take him, and with the help of the amazing volunteer network we have abroad – who drove to pick him up and get him to a vet to seek treatment for his front leg. He has since had surgery and had his front right leg amputated, as the damage was too severe for remedial treatment. He is currently in foster in Spain.
He walks much better now as a 3-legged hero, and is proving to be an incredibly smart young man! A fast learner, he is currently undertaking some basic behaviour training to ensure his manners are up to scratch! He knows where the cookie jar is, for sure! Check out our facebook page for videos of his training!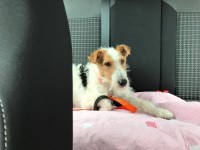 Download & complete the TerrierSOSQuestionnaire2017 now to help Hal find his forever home.
Remember: Children: 10+, no cats or small furries. Dogs for adoption will be neutered, passported, vaccinated.