We were asked to help an 'Airedale' in France – he had been found wandering – they had contacted the owner on the microchip and he said he had given the dog to someone else – and did not want him back – the new owner didn't want him – so he was in the pound.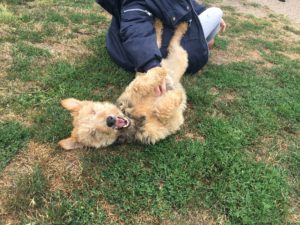 Yoko is an older male (about 9). We were asked as his last chance, and we said yes. We were told he was an Airedale but when the Transport Van arrived and out popped this little dog, we knew he was more Welsh Terrier than Airedale due to his size! Welsh Terriers are often mistaken for miniature Airedales (as their owners will agree!) but they're a very different terrier indeed! We believe Yoko is an Airedale / Welsh mix.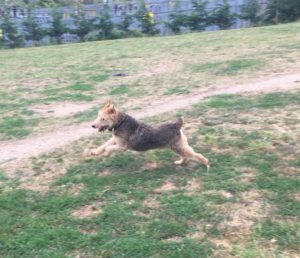 Yoko is a loving and fun boy, but he doesn't like other dogs – and being in kennels is not ideal for him – he has been moved to a quieter environment in Norfolk and is working with a trainer to deal with his dog-dog frustrations. He deserves a foster / adoptive home. He is a bright, loving dog, he likes people and really would need some time on his own. He is 9 and is looking for a retirement home. As he is medium sized, he is more manageable with his dog-dog issues and we would work with any prospective family to ensure a plan was in place. He walks well on a lead, travels well in a car and loves people!
Can you give this boy a lifeline?
Download & complete the TerrierSOSQuestionnaire2017 to rehome our lovely senior chap, Yoko.
Cats: not known
Other dogs: no
Children 10+