UK-based Pippa is an older girl (10yrs old) – still full of life and bounce.
Her owner passed away and no one else in the family were able to take her. So she sat in kennels, and we were asked to help.
She is typically terrier, likes a good sniff, can be aloof, not keen on all dogs, and pretty much likes life on her own terms. Sound familiar? If you love terriers, this is a pretty familiar story!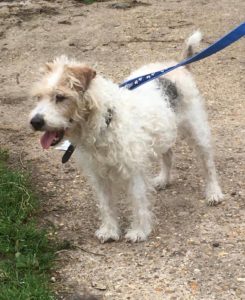 Pippa does have a skin complaint and will need to stick to her diet. So any prospective home will agree to that.
She is a UK dog – so although vaccinated, spayed and so on – she will not have a passport. If you are interested please fill in our form below
Download & complete the TerrierSOSQuestionnaire2017
Remember: Children: 10+, no cats or small furries. Pippa is best rehomed as an only dog, though ignores other dogs out on walks.